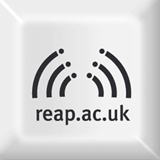 Additional Resources:
News
REAP featured in THES - 3rd January 2008 [13/02/08]
Research by Professor David Nicol (REAP Director) has been highlighted in the THES article 'Online student assessment'. The article highlights different ways online assessment can be used to support teaching and learning. The full article is available here.
REAP International Online Conference now archived [28/08/07]
With over 400 delegates from over 32 countries online during the three days of the conference an extensive repository of over 60 papers, 500 discussion posts and 3,000 chat messages has now been archived providing a lasting resource on Assessment Design for Learner Responsibility. You can visit the archive at: http://www.reap.ac.uk/reap07
REAP featured in THES - 15th June 2007 [16/06/07]
David Nicol (REAP Director) was one of the featured assessment experts in the 'Pick a number ... any number' article which appeared in the 'Working Knowledge' section of the Times Higher Education Supplement on the 15th June 2007.
REAP featured in new JISC Publication: Effective Practice with e-Assessment [13/03/07]
The Strathclyde Department of Psychology Pilot, undertaken as part of REAP, features in the latest publication from JISC, Effective Practice with e-Assessment. Described as a "transformative course design" the publication highlights how this redesign has resulted in a "profound impact on the course structure, ... moving the focus from transmission of knowledge to a process more explicitly owned and managed by students".
The full publication is available from: http://www.jisc.ac.uk/media/documents/themes/elearning/effprac_eassess.pdf
REAP Announces International Online Conference - 29th to 31st May 2007 - [09/02/07]
REAP will be hosting an International Online Conference in May 2007 based on the theme of 'Assessment design for learner responsibility'. Conference activities will include scheduled live chat sessions around selected case studies, with discussants presenting their reflections on the match or mismatch with assessment theories and principles, and authors and participants responding.
REAP featured in THES - 19th January 2007 - [19/01/07]
David Nicol (REAP Director) was one of the featured assessment experts in the 'Click here for a test of flexibility' article which appeared in the 'Working Knowledge' section of the Times Higher Education Supplement on the 19th January 2007. Full article
Last modified: